Responsible Investing
As of 2016 over $8 trillion is invested in Responsible Investing by individual investors and institutions.*
Consistent Values and Core Portfolios
Our goal is to help you live life consistently, including applying your values to your investments. Your values include both personal and financial values and we work with you to build and manage a portfolio that includes both sets of values. Many of our clients are interested in applying their personal values to their investments, others do not. We provide you the option. If you decide to do this, we call this a Values Impact Portfolio™ and it will be your core portfolio.
Live Life Consistently With Our Values Impact Portfolios™ - VIP
Based on our expertise in Responsible investing - active since 2002 - and using your responses to our Values Impact Questionnaire™, we create and manage tailored Values Impact Portfolios™ that integrate your social and financial values.
We use our Values Impact Questionnaire™ (VIQ) to gauge how important each of 17 different social values is to you. From your selections we arrive at your Values Impact Profile™, which helps us to focus on the investments that fit your social values.
In the course of getting to know you and your financial situation and goals, including your risk profile, we also arrive at an understanding of your financial values. This process includes using our Risk Profile Questionnaire to gauge your financial and emotional ability to deal with risk.
You're Likely Interested in Responsible Investing If...
Surveys indicate that more and more investors are moving towards ESG and Sustainable investing:
71% of individual investors are interested in sustainable investing.
76% of women believe that ESG factors are important aspects to consider when making an investment
84% of Millenials are interested in sustainable investing
"Sustainable Signals: the Individual Investor", February 2015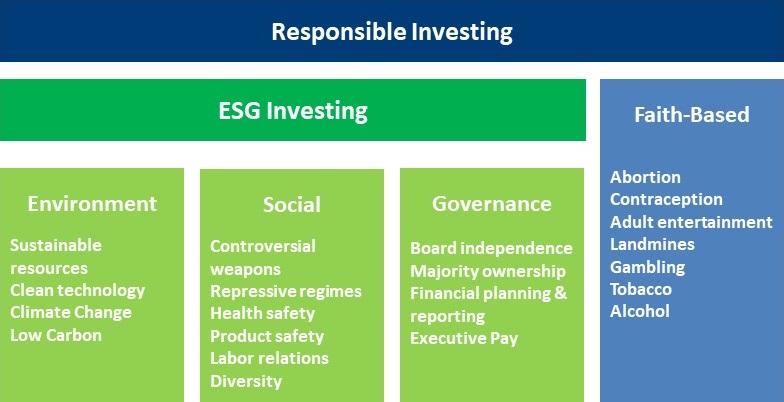 Courtesy of Northern Trust Asset Management.
CFA's VIP Process: Extra Steps Add Values and Create Impact
Chancery Financial's Values Impact Portfolios™ include two extra steps in the management process, highlighted below in italics:
Determine client's long-term goals, resources, risk attitudes
Understand client's social values using CFA's Values Impact Questionnaire™
Design an asset allocation and select investments including use of the Fiduciary Score™ & CFA's expertise in ESG analysis
Agree with the client on a recommended Values Impact Portfolio™
CFA invests and manages the VIP™.
The result for our clients is Impact: by investing consistently with your personal and financial values you are focused on reaching personal goals while re-defining a vibrant society and economy.
Responsible Investing and Risk Adjusted Returns Are Positively Linked
Values Impact Portfolios™ also include clients' financial values; risk-adjusted returns - performance - are critically important. Real world research shows a positive link between corporate financial performance, investment returns and ESG / responsible investing.
In a 2015 report Morgan Stanley concluded the following:
"Bottom Line: Reviewing 7 years of performance data for 10,228 open-end mutual funds, we also observed that sustainable funds tend to exhibit slightly higher returns and lower volatility than their traditional counterparts, barring a few exceptions."
"Sustainable Reality: Understanding the Performance of Sustainable Investment Strategies", March 2015
Deutsche Asset & Wealth Management in 2015 found that the majority of studies showed positive correlation between ESG standards and corporate financial performance. The research was a meta-study of over 2,000 empirical studies, the most comprehensive review of research on the topic of ESG investing principals.
"ESG & Corporate Financial Performance: Mapping the Global Landscape", December 2015
We are experts in Responsible Investing
Chancery Financial Advisors has been advising clients and managing portfolios in the Responsible space since 2002. We have been a third party portfolio manager for other advisors since 2010. As part of this, in 2009 J. Chris Cogswell earned the Certified Catholic Investing Professional (CCIP) designation which guides our work with Catholic individuals and institutions.
It's extremely easy for investors - both individuals and organizations - to participate because of the many Responsible Investment options, but it requires an advisor or consultant with specialized Responsible Investing knowledge that goes beyond just financial criteria. The Responsible Investing graphic above highlights the importance of being able to fit a client's personal Values Impact Profile and financial needs with mathcing Responsible Investments. The wide array of Responsible investments includes:
Over 400 mutual funds and ETFs in the space
Hundreds of third party managers with portfolios that can be tailored to a client's detailed Values Impact Profile™.
Targeted impact investing funds, micro-finance, and community investments
The wide range and design of Responsible investments makes them attractive for organizations with social missions - non-profits, endowments, colleges, and charitable organizations - that desire to align their investments with their social missions.
*US SIF, 2016
Important Links:
A better tomorrow for you and those you care about.